Our School
Some of the main features of our school are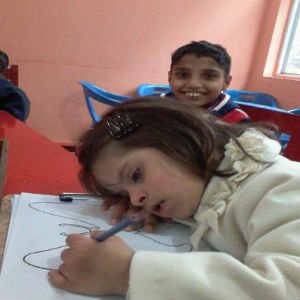 Classrooms
Our class rooms are vast and sketched according the mental level of the child. Classes are divided into Green, Yellow, and Red sections. Our expert and fully trained teachers take very much care of their beloved students and get fully indulged into their characters to make them fully understand the specific lesson or program.
Teachers are higly experienced and it is the result of their hard work that we are always being appreciated from all the parents.Parents are fully satisfied from our service and it is the level of their trust on us that they always proved a good word of mouth for our Institute.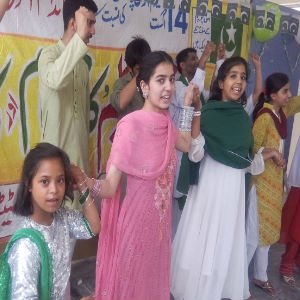 Main Hall
There is a vast main Hall which is located on the 1st floor of our school's building. In it there is a full multimedia setup which is used for recreational and as well as learning purpose. Our religious events like Eid-ul-Fittar, Eid-ul-Azha, Jashn-e-Eid Miladul Nabi (P.B.U.H) are being celebrated here with full religious spirit. Likewise our national days like 14th August, 23rd March, 6th September, are also being celebrated here with full enthusiasm.
These all functions and events are arranged in the same Hall. It is appreciable that our all students actively participate in all the events and programs and it is difficult to judge them as they perform in a so natural and normal way.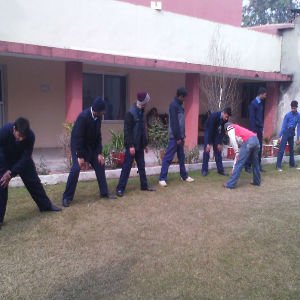 Sports Ground
We have a solid surface fully tiled and vast play ground in our campus. It is equipped with quality playing gears which are being maintained for their security and reliability. These all are safe and vary easy to play. Children play with them and enjoy in their recess time.
Ground is big enough to be used by the senior students to play football and cricket etc. Our specialists train our students for different games and it is the proof of our healthy efforts that a team of our students was gone to Australia along with the Physical Fitness staff for an international sports event which was being arranged there.
Security
Keeping in view the current situation of security in our country Chambeli Institute has focused on the security of its campus. For this purpose we have high walls around our whole building which is further protected by steel security wire. There is proper Guard Room at the entrance of our campus and anyone who wants to get entered into the campus has to prove his/her identity first.
Also, there is a efficient and active system of CCTV cameras with us. Different CCTV cameras are installed at different placed which are being monitored by responsible staff in the control room.